How ABEC Loans Are Making a Difference
On these pages, borrowers tell you why they chose ABEC, the Financial Organization with a Mission.
Lee Road Baptist Church
Cleveland, OhioFriendship Baptist Church
Charlotte, North CarolinaMyanmar Baptist Church,
Glendale, Queens, New YorkPrimera Iglesia Bautista
Orocovis, Puerto RicoShiloh Baptist Church
Wilmington, DelawareWorthington Baptist Church
Worthington, West Virginia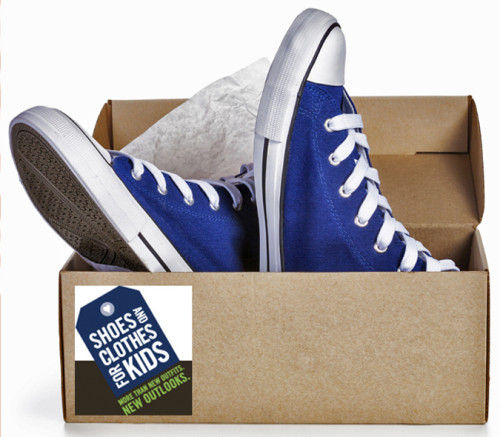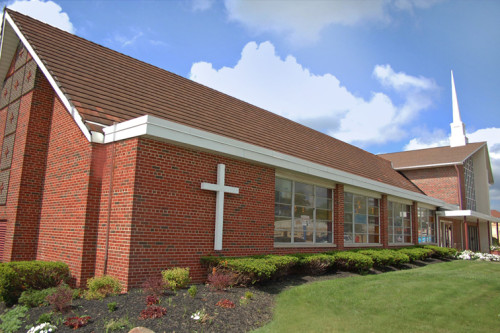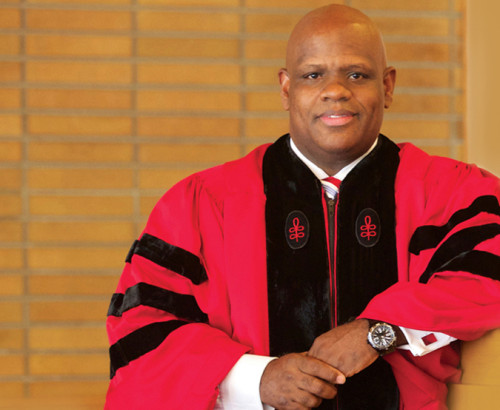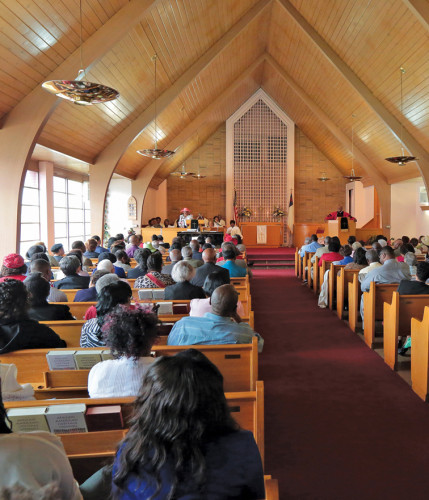 Lee Road Baptist Church
Cleveland, Ohio
An ABEC Loan Helps a Community
Rebuild Itself.
"Our community is rebounding!" declared Reverend James P. Quincy III (below left) after his 300-member church received an ABEC Loan, which is helping accelerate the neighborhood's rebirth.
Lee Road is using the funds to expand and support its Family Life Center, a community center that seeks to include everyone at the table. Every month, nearly 2,000 families are served in its food distribution program. Vouchers are distributed in partnership with Shoes and Clothes for Kids, a Cleveland nonprofit. Four times a week, more than 40 seniors drop in for games, exercise, and socializing. And the Family Life Center is a haven where young people activities, recreation, and listening ears for talk about difficult topics like sexuality.
According to Rev. Quincy, Lee Road Baptist Church—featured on the home page of this website—is "the soul of the community." But he's quick to point out that a strong church-community partnership focused on mutuality and reciprocity is what really accelerates urban renewal. "The church is stabilizing the community and the community is stabilizing the church," he says. As just one example, a shopping center has sprung up two blocks away, and the job opportunities there have made a positive difference in the neighborhood's socioeconomic outlook.
"We've had a long relationship with American Baptist Churches," Rev. Quincy asserts, "and ABEC provides for us a major continuation of that relationship. The ABEC Loan gave us the financial strength to make a difference and has expanded our role as witnesses to God's mercy for all people."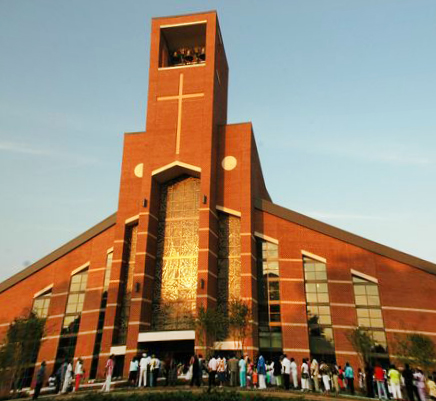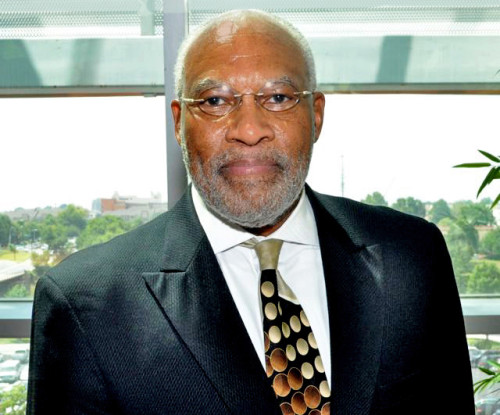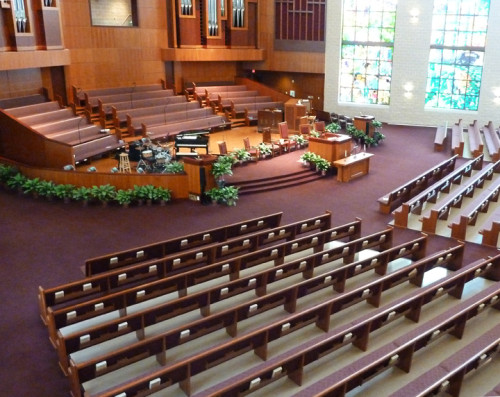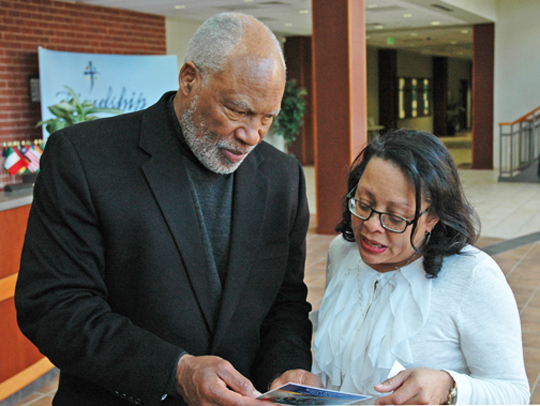 Friendship Missionary Baptist Church
Charlotte, North Carolina
$25 million ABEC Participation Loan Turns a
Vision into a Church Complex and Soon, a Whole Village.
The people of Friendship have a biblical commitment to the African adage, "It takes a village. In fact, they decided to build one—a village on 104 acres in Charlotte's inner city. "This is a community within a community," says the Rev. Dr. Clifford A. Jones, left, the church's pastor for more than 30 years.
With the help of a $25 million loan from ABEC and four other lenders—ABEC often combines resources with other financial institutions to make large ministry dreams attainable—an impressive 135,000-square-foot complex has arisen. Consisting of five connected buildings, it includes a sanctuary for 3,000 worshippers, a conference center with space for workshops, seminars and banquets; a child care center serving infants through pre-teens; a fully-equipped gym; a transitional living center for women in need, administrative and ministerial offices, a community development center that provides support services and programs for youth, adults, and seniors; and a playground and meditative garden.
The planned village surrounding the church complex, when complete, will have single and multi-family housing, an inter-generational care center; senior housing and assisted living facilities; and all the conveniences of any well-designed neighborhood, including parks, jogging trails, and commercial space for shops, banks and restaurants.
"God has blessed us with this land, and ABEC has helped us to serve the people of Charlotte," asserts Rev. Dr. Jones, pictured at left at a recent meeting with ABEC President and CEO Valoria L. Cheek, Esq.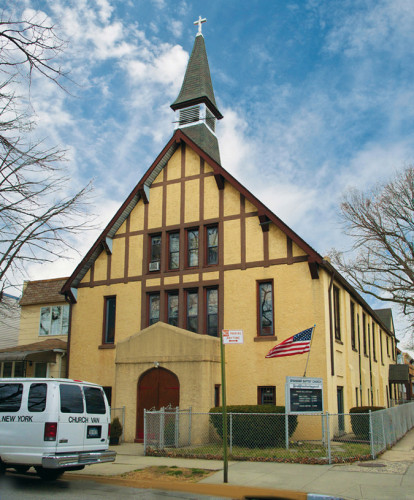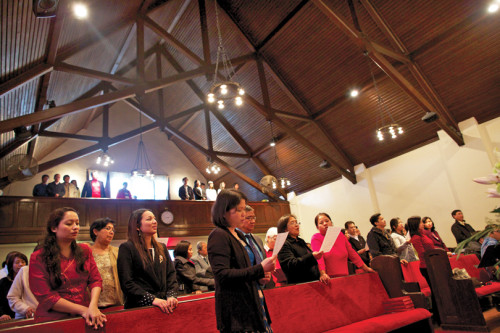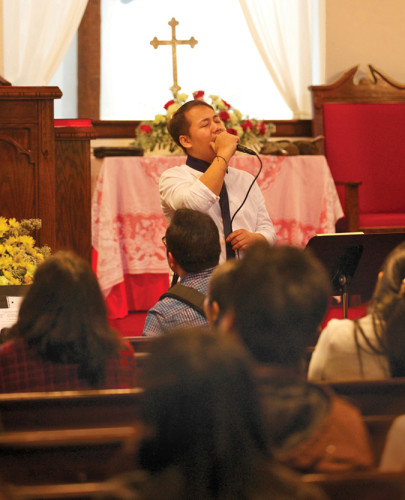 Myanmar Baptist Church
Glendale, Queens, New York
Prayers Are Answered with a
$300,000 ABEC Loan.
For more than 16 years, this congregation of mostly first-generation Americans worshipped in rented space at other local churches—and prayed to have its own building. In 2012, the worshippers' prayers were answered. That Easter Sunday, they gathered to celebrate their new home—purchased with the help of an ABEC Loan.
But for the help from ABEC, they might still be hoping and waiting. In an New York's ultra-expensive real estate market, the prospects of finding an affordable building did not look bright. According to the Rev. James Stallings, Regional Executive Minister of American Baptist Churches of Metropolitan New York, "New York banks have not been very welcoming to houses of worship."
ABEC was familiar with the situation and helped Myanmar overcome it. "We make sure to have the proper levels of financial accountability from the churches we assist, but we are here for one thing only: to fund projects that support the church's ministry goals, are architecturally sound, and exhibit good stewardship of both human and natural resources," says ABEC President Valoria L. Cheek.
The congregation was able to buy a building that had been vacated by another American Baptist congregation. As an investor in ABEC Notes, they'd accumulated enough in principal and interest to make the $400,000 down payment toward the $700,000 purchase price. ABEC granted a $300,000 mortgage loan for the balance of the sale.
Myanmar's pastor, the Rev. Myo Maw (left) views ABEC's involvement as decidedly more substantial than simply 'grantor of a loan.' "This experience further strengthened the faith of people who'd prayed and believed for so many years," he attests.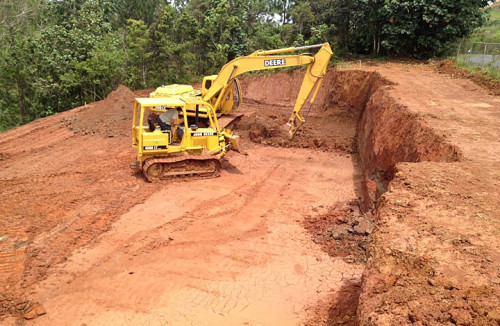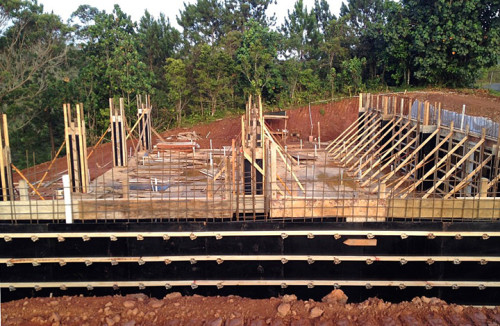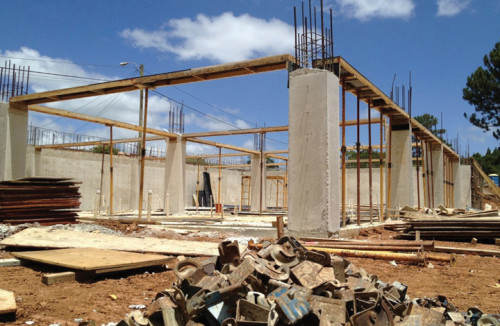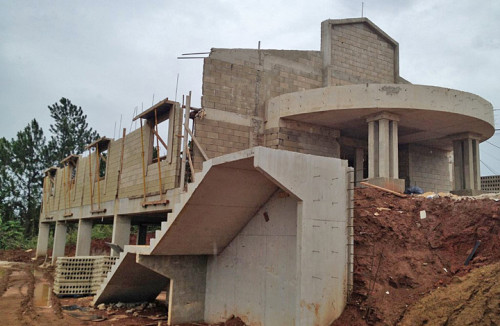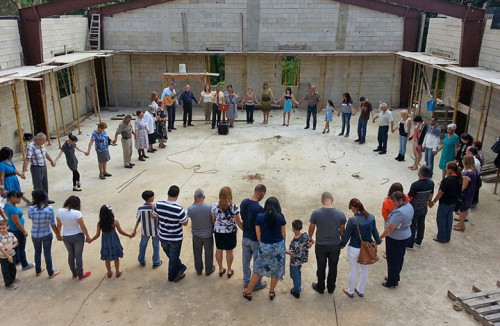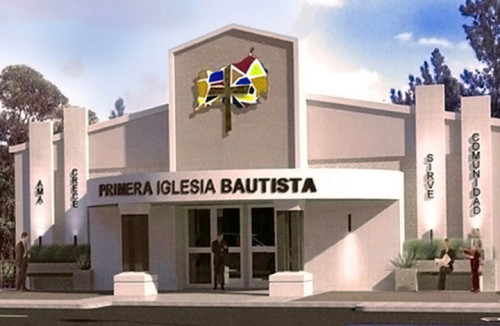 Primera Iglesia Bautista de Orocovis
Orocovis, Puerto Rico
From the Ground Up, a Worship and Education Center Arises.
Thanks to an ABEC Loan, a new worship and education center has been built in Orocovis, a city of 25,000 in the center of the island of Puerto Rico.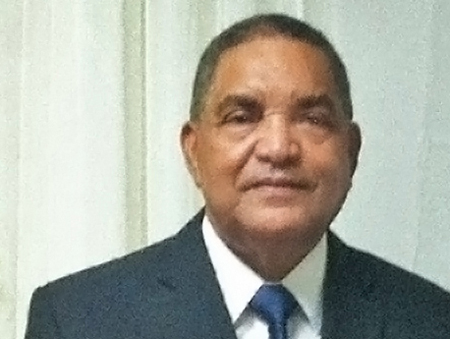 The church had outgrown its former location in town, and the community replanted itself in the nearby countryside. The dynamic Rev. Angel Luis Pabellón Ramos (left) became the new pastor. Membership doubled. Ambitious building plans were developed.
Church leaders did not wait for the new building to be finished to minister to the community. They went out into the neighborhood, meeting people in their homes. A team of seven or eight, led by a psychologist and several teachers, offered assistance, prayer and comfort. "We went house-to-house, giving professional help, mentally and spiritually," says Pastor Pabelllón Ramos.
And they sought an ABEC Loan.
The new building that arose in the countryside has a community center, recreation area, and a school with five classrooms, offering classes in Spanish, English, math, science, and skill-building for employment.
Primera Iglesia Bautista de Orocovis could have procured a loan from a bank, church leaders note. But that was not an option for Pastor Pabelllón Ramos. He says of his congregation's decision to work with ABEC: "The denomination provides this opportunity. We are Baptists. If we need to borrow funds for expansion, with ABEC, we are there for each other."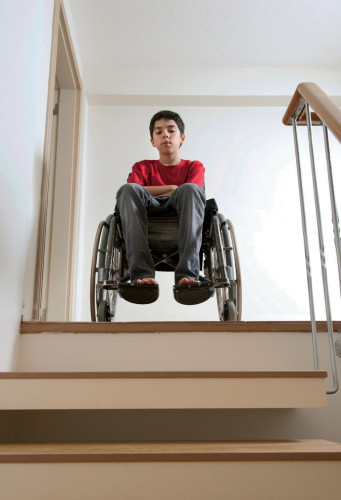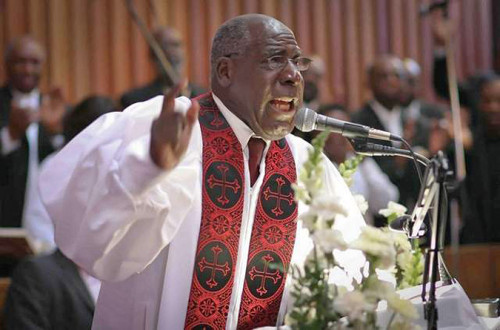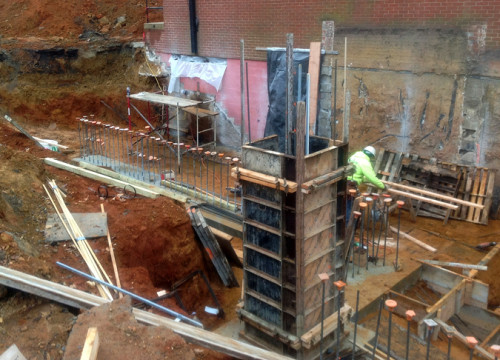 Shiloh Baptist Church
Wilmington, Delaware
With a $700,000 Loan, an
Elevator Lifts a Congregation.
To some, getting a loan for a construction project like a new elevator might seem like a simple matter: just walk into a bank — Wilmington is one of the nation's premier financial centers — and apply for a loan. But when his congregation needed funds, Dr. Clifford Johnson, middle left, pastor of the 400-member church, picked up the phone and called ABEC.
"We are the body of Christ, and we do not exclude any part of the body," says Dr. Johnson. "When we were having a dinner or celebration and the congregation went downstairs for fellowship, some people could not join us," Dr. Johnson recalls. "They were not able to participate fully, which was not fair and not Christian."The new elevator, installed with the help of a $700,000 ABEC Loan, ensures that all people of the church can easily navigate the two-story building.
Dr. Johnson views the "hand-holding" with ABEC customer service as invaluable. "ABEC becomes a faith partner in what you're doing, not just a lender. When a church begins to think about construction or redevelopment, ABEC comes in and works with you to see if the project is feasible and to provide information about how you can achieve certain goals."
Shiloh is also an active investor in ABEC Notes. "Just as we were able to get an ABEC Loan to improve our ministry, ABEC will use the money that we invest to help build other churches—and to make sure that no one who comes will be left out."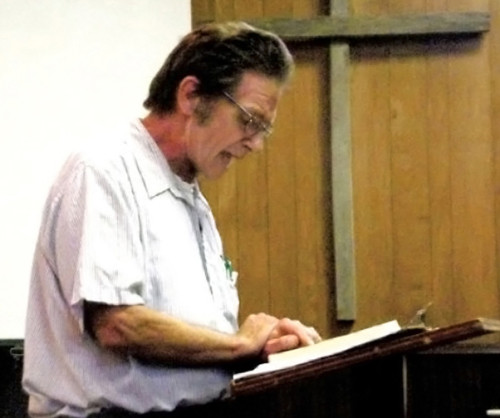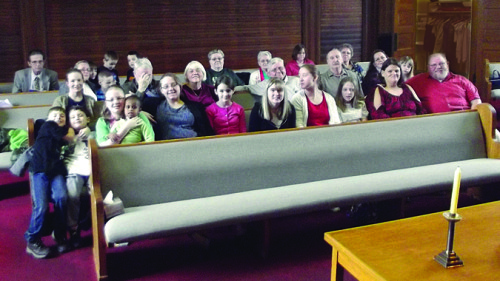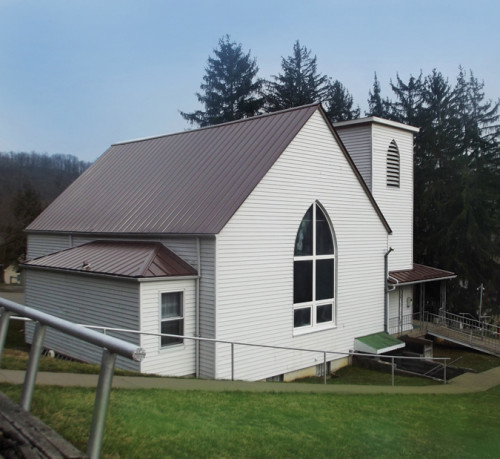 Worthington Baptist Church
Worthington, West Virginia
$22,500 Loan for Roof Repair
Makes Important Things Possible.
With church funds at a premium—enough to cover expenses but not much left over for savings — it was imperative that Worthington Baptist Church consider its finances very carefully before embarking on a much-needed roof repair.
"We had offerings, pledges from members, monthly income from a trust fund — and faith," recalls Rev. Everett Palmer, top left. "As important as all those factors are to churches, their significance often escapes financial institutions. If churches are unaware of the assistance they can get from ABEC, they may find it impossible to access the funds they need."
Rev. Palmer says that trying to get a loan from a commercial bank can be frustrating for small churches that do not have collateral, such as land, that banks often require. Tiny Worthington Baptist, which sits atop a steep hill in a very small town and has an average Sunday attendance of about 30, could not offer such collateral. But Rev. Palmer believed that it could improve its chances by "dealing with people who understand how God works."
ABEC's examination of the church's finances was rigorous, but the scrutiny was done with a deep, realistic understanding of the sources of income churches rely on. "We understand tithes and offerings; we understand church leadership and culture," comments ABEC President and CEO Valoria Cheek.
Help for Worthington came in the form of the $22,500 unsecured ABEC Loan. The roof was repaired. And the end of worry over the leaking roof freed up members to concentrate on more important things, like the church's first-ever Christian school. "People are just glowing now that they've had a chance to see the changes that were made since we got the loan," Rev. Palmer reports.